Sharon Kelly from Portsmouth (UK) lives with her family in Oberammergau, an idyllic village in Bavaria, Germany, where she runs a Bed & Breakfast guesthouse (B&B). I spoke to Sharon and asked her why she loves Germany so much, what she offers visitors in her B&B and also to give readers some ideas for their next trip to Great Britain. Let's take a look!
Sharon, you live currently in Oberammergau in Bavaria. Why did you move there?
Sharon: We moved to Oberammergau in 2006 for my husband's work. We spent three and a half years here, and had our son whilst we were based here. I think we fell in love as soon as we arrived, not with each other – that had already happened, but with the beautiful surroundings. Shortly before we were due to go back to the UK, an opportunity came up through a personal friend to buy an existing guest house and we just knew we had to take the opportunity. We took over the guest house in 2009 and in May 2010 we opened our doors to guests in our first Passion Play year. It was hard work but such an experience and a lot of fun.
You are running a Bed and Breakfast in Oberammergau. What can your guests expect? Are you offering a real British B&B or is it customized for Germans?
Sharon: We feel we have the best of Britain and Bavaria…where else can you holiday and enjoy the wonderful surroundings of the Alps and your home comforts such as a good cup of English tea and some scones in the afternoon, maybe a Bavarian dinner at a local restaurant, big comfy continental beds, a traditional wooden chalet with views over the mountains and English tv when you want to chill out? Guests can expect to feel well looked after from the time they arrive, with English advice about what's on in the area, transport, we even book restaurants etc. for them if they need us to.
Which part of Great Britain do you come from?
Sharon: We are both from Portsmouth, on the south coast of England. We lived there in the city for 13 years, it's where we had our first child. My husband has travelled a lot in his career, but I never expected to be living the alpine dream with him one day!
You have lived now for some time in Germany. What do you like best about our country?
Sharon: We've lived in the town of Oberammergau now for 11 years. The best thing about Bavaria is the fresh air and beautiful surroundings, the sound of cowbells in the summer and the fresh crisp snow in winter. I know it sounds like advertising, but it really is like that!
I love your idea of the "English Books in the Alps". Can you tell us a little bit about this Project ?
Sharon: Approximately 2 years ago, I was at an Expat fair in Munich and came across a lady with a wonderful display of English books…what a delight! My children have missed out on enjoying many English books being here, but of course we have embraced the German language and both children are schooled in German, so reading German books was never a problem and, actually good for them, but we always wished we could just find some English books to read too, as I was very keen to keep their level of English at a good level. Then I realised, that's what I need to do, bring English books to the Alps!
So, that's exactly what I did. I work with an English company called Usborne. They are a children's book supplier, with over 40 years of experience in publishing and the books are absolutely beautiful. It was the Shakespeare range that enticed me to go for it and build a business here. I wanted those books for my children to read! I also studied TEFL and TEYL too, so that I can help International, Bilingual and local schools and Kindergartens to choose the correct books for their pupils. I now help keep bilingualism alive and get books into schools all over the area from south Munich to Innsbruck in Austria. Also to local people and expats for their children.
What is your favourite children's book?
Sharon: Goodness, that's a tough question, I think I would have to say anything that makes the child enjoy reading…this is such an important skill and is SO enjoyable, but many children these days are not getting the opportunity to learn to read. I love it when a child finds a book they love and really wants to get 'stuck in'. The best part is seeing the smiles on their faces!
Germans do always have their own idea of British food – which is usually not so good! Is that true? 
Sharon: That's funny! I've often spoken to people who explain to me they had a great holiday in England…then they add 'but I'm not sure about the food'. I believe this is changing though, there is often a little surprise waiting in the supermarkets like some cheddar cheese, or a tin of baked beans, perhaps even an apple crumble in the freezer section! I do know that people here love a bit of English jam and a scone, when they get to try it here for the first time, they are describing it as 'ganz lecker', really tasty! Some people I speak to do believe that we English people stop at 4pm for afternoon tea, like the Queen. So why not!? We miss a good portion of fish and chips and a proper Curry.
If you would suggest for our readers a region, town or sightseeing trip to the UK. What would you recommend?
Sharon: Apart from the big smoke (London!), which I think you have to experience at least once, I would totally recommend the Naval and maritime area of Old Portsmouth, where you can see Horatio Nelson's ship HMS Victory, King Henry's Tudor ship 'The Mary Rose' which is now in permanent the museum.
York is a lovely city, it's where my brother lives and it's steeped in history. Cornwall is my absolute favourite area, we holidayed there as children and I love the coastline, the ruggedness and the little coves you find. It's a great place to visit.
Anything else you would advise for a trip to the UK?
Sharon: Take a brolly!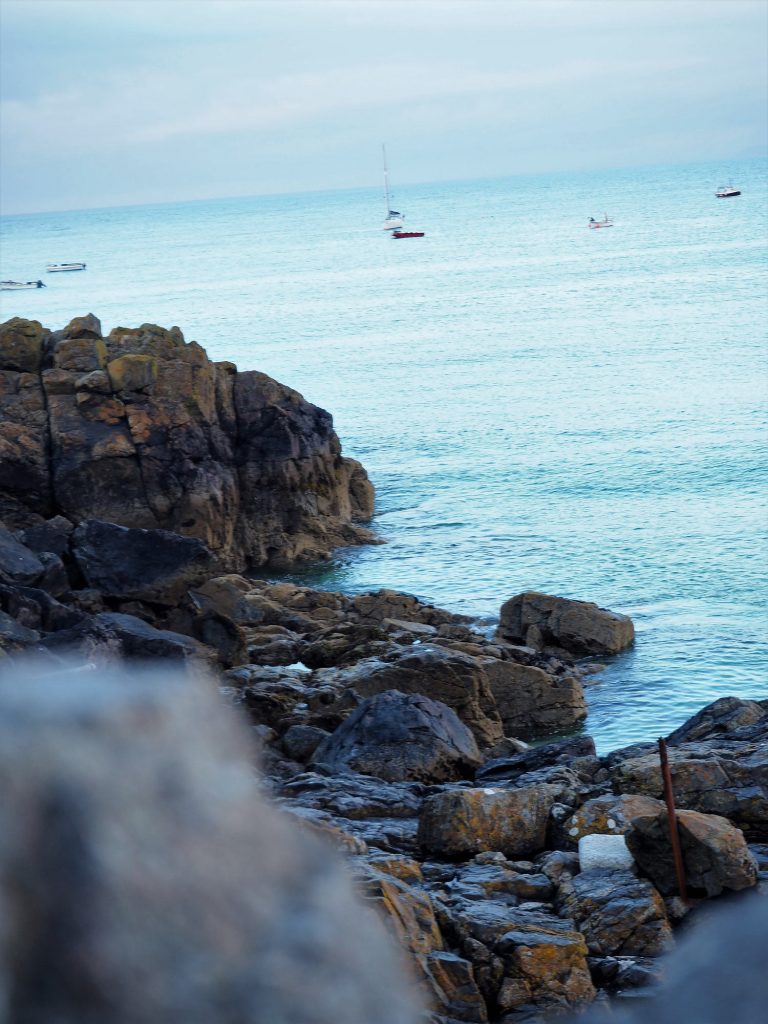 Additional information
Mr & Mrs Mark & Sharon Kelly
Am Rainenbichl 49
82487 Oberammergau
Email: info@haushannah.com
Webseite: www.haushannah.com
Tel: 0049 (0)8822 949547
Do you know someone from the UK who fell in love with Germany and wants to talk about it? Or do you live in Great Britain as a German native and wants to tell our Readers about your life abroad? Then leave me a message down here or send me a mail: info@tea-and-scones.de – I will get in touch with you!
In that sense: All the best for now, Simone
PS: Looking for the interview in German language? Klick here!